Kiwi released in Pukenui Forest in April 2018 are doing well. There has also been some fantastic work done by volunteers weeding and planting at Whau Valley Dam over the last couple of months.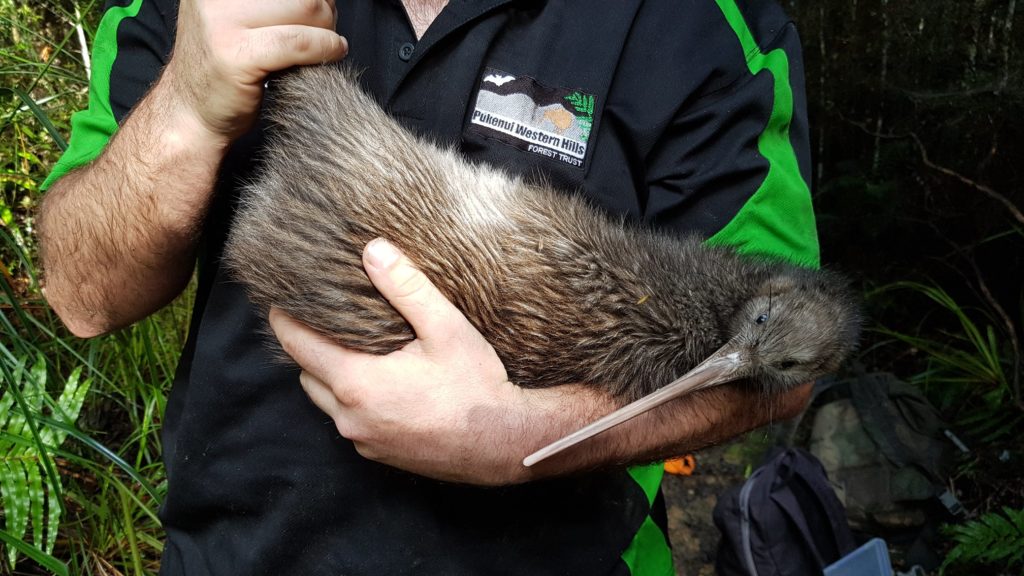 We have continued to monitor the kiwi closely this month and Waimarie is now on day 90ish of incubation so an egg should be hatching soon! Once again, we have been led on a wild goose chase by Muhammad whose signal has been extraordinarily difficult to trace! We had been detecting signal bounces quite literally everywhere in the forest as well as the outskirts. While we were certain he was in the forest, we never knew quite where he was and as a result didn't get his data stream for the month of July. You'll be happy to know however, we finally caught up with him just a few days ago! Muhammad is now near Whau Valley Dam where Kaitaki had been previously. The problem is now Kaitaki has moved, let the next wild goose chase begin…
We have also finally managed to catch up with Ella and Talha for their transmitter change/health checks. Ella was tightly huddled up in an old tree stump which made for a relatively easy catch once I managed to squeeze myself in there! She was looking healthy as ever and has put on a very respectable 500g in weight. She didn't like been handled very much and seemed to stress fairly easily so we got her transmitter changed as quickly as possible and placed her back in her burrow to relax in peace!
Talha on the other hand was little trickier and in fact was quite cunning! We have had previous capture attempts on Talha and she has always been on high alert. This means she was always one step ahead of us and exceptionally difficult to catch in the thick bushes she has taken a liking to. Due to this we were quite pleased this time to find her in a burrow with no exit! However, just as we found the burrow it started pouring down. Because we can't handle the kiwi in this weather we decided to wait until the weather settled down before attempting capture. Talha however had other plans. Just as the rain begun to clear, a silhouette quickly moved from the direction of the burrow to an adjacent patch of kiekie. Ben and I waited patiently to see what she did next.
After about 5 mins or so she emerged from the bushes and out into the open. We saw her quietly creep around the corner from us and went to investigate. We noticed an old tree stump and thought that was surely where she had headed. As we headed toward the stump however, Ben noticed a few overturned leaves next to the smallest of tunnels and lo and behold there she was, squeezed into the smallest of gaps. With nowhere to run Ben caught her with ease which she was none too happy about! She too was looking healthy as can be and has gained an amazing 625g!
The monitored kiwi have been active for a collective average of 11.80 hours per night, down slightly from 11.99 hours last month. Austin was once again the most active bird this month, with an average of 12.66 hours of activity per night. And Ella has once again been the least active with an average of 10.42 hrs of activity per night, which is down from 11.33 hours from last month.