The 1700 hectare Pukenui/Western Hills Forest is located on the doorstep of Whangarei City. Numerous tracks link Whangarei District Council and Department of Conservation administered land which includes the Coronation Scenic Reserve, Pukenui Conservation Park, Whau Valley Water Supply Reserve and Whangarei Quarry Gardens Recreation Reserve.
Walks range from 30 minutes return (Rust Track) to 8 hours (Amalin Drive to Russell Road) showcasing a beautiful array of native vegetation with some impressive mature trees, picturesque streams and a variety of forest birds.
The forest complex is steeped in history with Maori pa sites and storage pits, a deserted goldmine and remnants of former logging operations to be seen. Several places worth visiting, found at the start of the tracks, are the Quarry Craft Centre (off Selwyn Avenue) and the Whangarei Quarry Gardens (off Russell Road).
Please keep to the tracks marked with orange triangle markers and respect private property. No dogs, camping, fires or bikes are permitted and remember to take only photos and leave only footprints.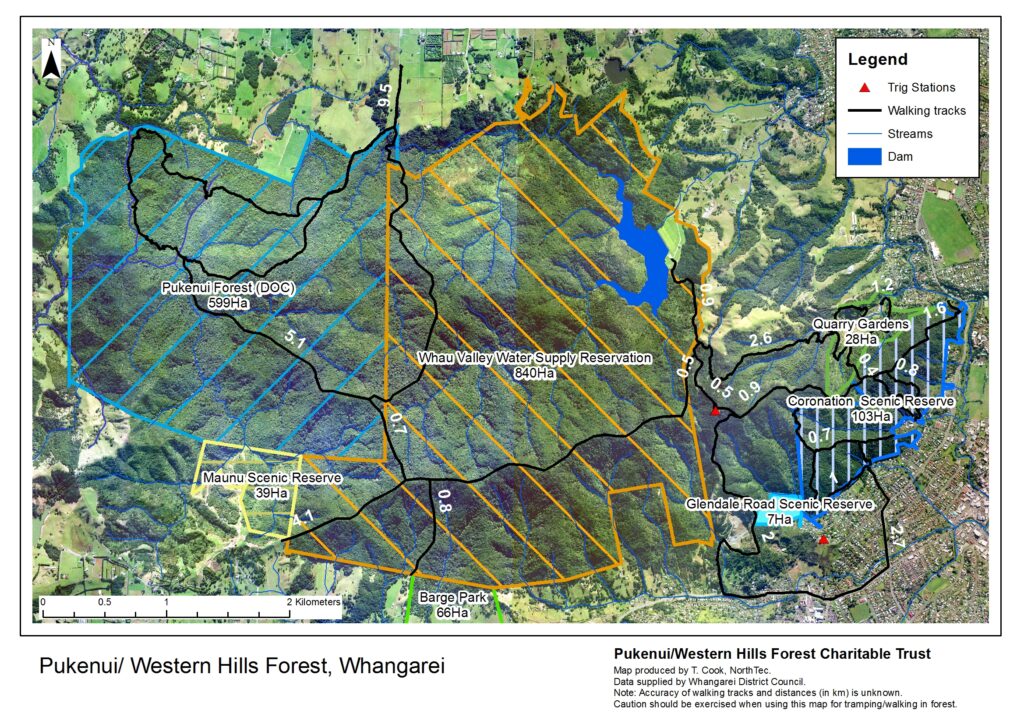 Pukenui Forest Loop Track
The first section of this track is an easy walk, suitable for all ages. To complete the full loop, a moderate level of fitness is recommended.
Time: 3 – 4 hrs (from car park)
Distance: 8.2 km (from car park)
From the car park, access to the forest is through open farmland displaying some attractive dry stone walls dating back to World War II. Once over the stile, this walk takes you along the edge of the forest past regenerating native vegetation. Tomtits are often sighted here and the delightful song of the tui can be heard as the track enters the forest. An old forestry bullock track leads you down to the beautiful Mangere Stream where there are some good picnic spots. There are some steep hills to climb which return you to the bullock track and along the fence line to the stile. Large kauri and totara, native orchids, and a range of forest types feature on this track.
---
Taraire Ridge Loop Track (return via Pukenui Forest Loop Track)
A moderate level of fitness is recommended for this track.
Time: 4 – 5 hrs (from car park)
Distance: 8.9 km (from car park)
Taraire is the predominant tree on parts of this track. From the forest entrance at the stile, this track takes you down to a stream crossing, with a steep climb up the Taraire Ridge to a junction with the Main Ridge Track (see below). The Taraire Ridge Loop Track continues down to the Mangere Stream, where there are some good picnic spots, and links with the Pukenui Forest Loop Track. The way out involves a steep hill climb to an old forestry bullock track and along a fence line back to the start.
---
Main Ridge Track
A high level of fitness is recommended for this track.
This is an undulating track along the Main Ridge, suitable for well equipped trampers with a high level of fitness. The Main Ridge Track allows movement within the Pukenui/Western Hills forest complex and provides access to:
Whau Valley Dam (Whau Valley Road)
Whangarei Quarry Gardens (Russell Road)
Coronation Scenic Reserve
Quarry Craft Centre (Selwyn Avenue)
Barge Park Showgrounds (Maunu Road)
Golf Harbour Drive
Amalin Drive/Three Mile Bush Road (via Taraire Ridge Loop Track)